Sofas are like our second bed in the house, they must work as a social seat and also as a comfortable bed when you just want to chill in the end of the day. Sofas also consist on sets that are not planned for only 1 or 2 people, but several guests or family members, so the best sofa sets you will find out there are expensive products that worth the investment for people who really need plenty seats for a big room.
Our top of best sofa sets comprises products that offer at least 4 seats, we didn't include pieces like lover seat's that consist of only 2 seats or similar pieces in the market. You will also find here the most popular, well rated and evaluated sets available in the market online, but many of the are also available on outlet stores of the respective brands if you are looking for seats you can try before buy. Take a look on our list and dream on a spacious evening over some of these beauties.
Best Sofa Sets : Our Top 7 Best Sellers
Vig Furniture Polaris Sectional Sofa
The Polaris sofa set is one of the most sophisticated, luxurious, high end options you can bring to your living room. Vig Furniture is specialized on crafting top notch sofas made of Italian bonded leather. The Polaris series specifically is made of top grain leather and is available on black, orange, red and white. The external pieces of the set have ejectable head sets, a drawer and an in-built storage cabinet for books, magazines and any other decorative pieces you may want to display.
Features:
– Available on several different colors, all made of top quality Italian leather
– Set includes 5 seats and a lovers' seat (2 seats)
– Ejectable head rests on 4 seats
– Includes cabinet for decorative storage and a drawer
Benefits:
– Made of sophisticated Italian leather
– Sofa on large-spaced design, excellent also for laying.
– 5-years warranty
– Available from $2500 to $3500 depending on seller
Stendmar S150LG Sectional Sofa
This is another luxurious set with an even wider concept of family alike sofa. The Stendmar sofa offers 9 seats (2 in a lover seat piece). There are 5 different pieces including an ottoman (feet rest piece). It is a comfortable set made on microfiber which makes it less expensive for a set so big like this one.
Features:
– Set of 5 different pieces: One left piece (armrest), one lovers' seat piece, one right piece (armrest), one armless chair and one ottoman piece.
– Made on microfiber, two different colors: light grey and dark grey.
– The legs are available on chrome metal or black wooden, up to your choice.
– 2 seats with head rest
Benefits:
– The cushions and the covers of the cushions are removable for washing
– 2 years warranty
– Available from $2000 to $3500
Global Furniture 6 Piece Sectional
Lovers of good traditional style of leather sofas will for sure enjoy this set manufactured by Global Furniture. Includes six different couch alike pieces to be assembled together. Two pieces are armchairs with recliners to provide that daddy's couch experience in front of the TV. This set is also more affordable than the Vig one, for example, because the bonded leather is not imported (what doesn't mean it is of inferior quality). The cushion system of this set is also an unique manufacture, the kind of comfort you can only have with this kind of traditional leather sofa.
Features:
– All made on bonded burgundy leather.
– Foam on cushions of high resilience for longer durability and comfort.
– Structured with elastic webbing and S-springs
– Set of 6 different pieces, including two armchairs with armrests and recliners.
Benefits:
– The recliner works on power, so you can adjust the reclining on custom angles.
– 1-year warranty
– Available from $1900 to $3000
Samuel Sectional Sofa by Coaster Home Furnishings
The Samuel set is also a bonded leather set that follows traditional designs. Different from the Global Furniture set, this one looks less like a set of armchairs and more like a leather sofa for real. Coaster Home Furnishings has many popular sets of sofa, and this is not the only one you will see here. Each seat of the Samuel set (there are seven seats) have a back cushion also made on leather. This set also has an ottoman piece but it is not included with the purchase of the sofa, you have to purchase the ottoman separately.
Features:
– Sectional sofa made on bonded leather, with baseball stitching
– The frame construction is made of hardwood
– Curvy spring base
– Pocket coil cushions, both on seat and back
Benefits:
– The set has 4 pieces that are freely attachable, so you can even customize the piece for small ambients
– 1-Year warranty policy
– Available from $1500 to $2200
Contemporary Sectional Sofa with Built-In Table by Coaster Home Furnishings
This second set of Coaster Home Furnishings is a modern concept of sofa, also offers less seat sizes but is the kind of dreamy concept for a stylish ambient. There are 4 sinuous seats with a built-in table for decorative display. This sofa is also made of bonded leather on white color, including the base of the piece. The set has all its cushions removable for cleaning purposes.
Features:
– 1 piece only sofa with 4 seats, including one arm rest pillow shaped.
– Made of bonded white leather
– Pocket coil cushions for the back
Benefits:
– Removable cushions – including the seats
– 1-year warranty policy
– Available from $1200 to $2300
Jessa Place Sectional Sofa by Flash Furniture, Chocolate Fabric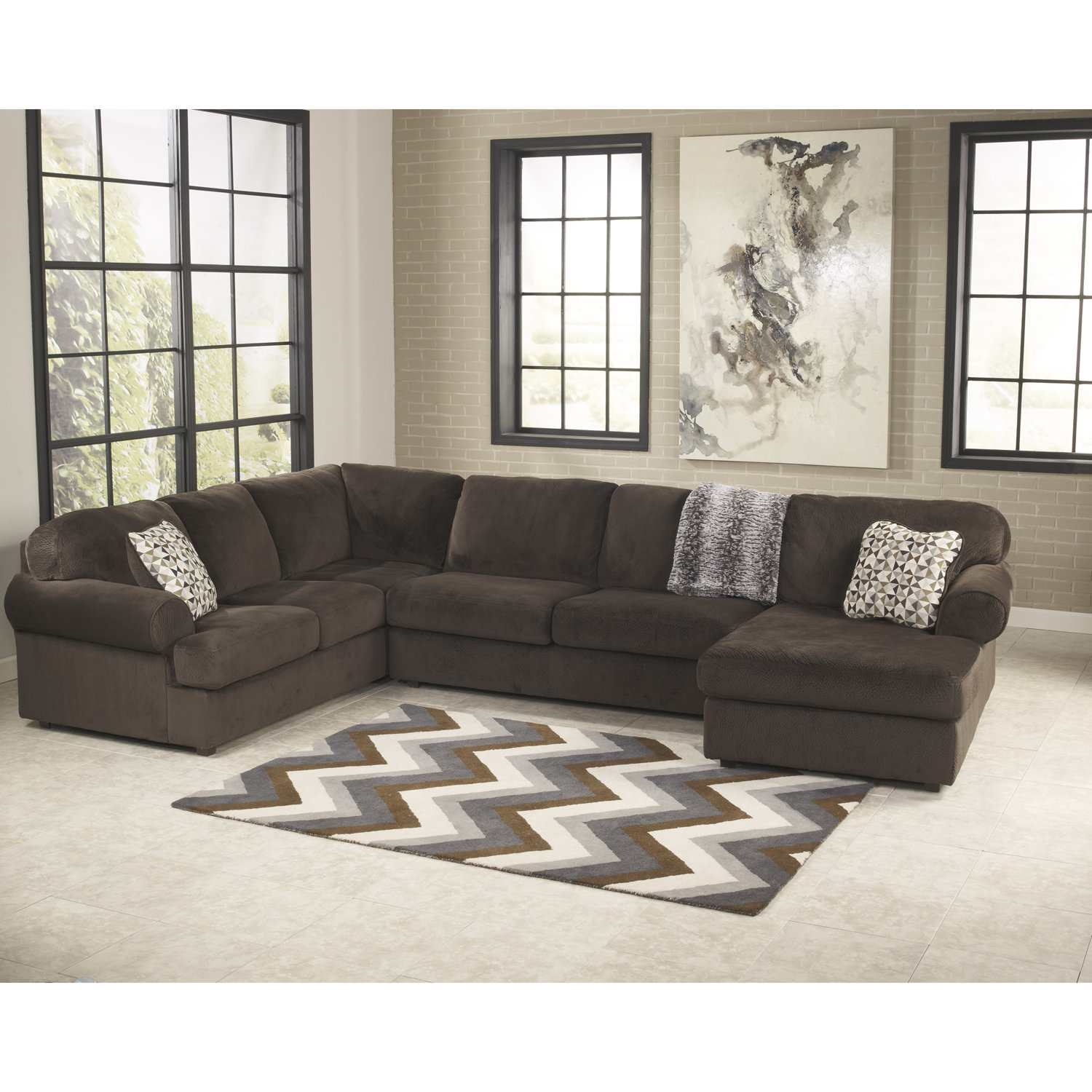 This model of sofa is the first of the two more affordable options of our list that are not exchanging quality for cost. The Jessa Place is actually a large, quite comfortable sofa made of a ecologic plush fabric, it is less expensive due to the use of fibers of cotton instead of silk or mohair. The plush resembles the touch of velvet but is much less expensive. The set includes 3 different pieces with 6 different seats.
Features:
– 3 piece sectional sofa
– The two external pieces have arm rests
– Includes the decorative toss pillows
Benefits:
– Ample sitting area
– 1-year warranty
– Available from $1500 and lower depending on available promotional sales
Poundex Bobkona Atlantic Sectional Sofa
The last item of our list is a slim, more minimalist design and also a more affordable option that still offers great quality, 4 seats, bonded leather on covers, a functional armrest and head rest on two seats. While the amount of seats on this sofa is limited, it is a great budget option especially for people who are not extravagant, do not have a big family and are used to throw parties on a cozy, moderate fashion.
Features:
– 2 pieces with 4 seats
– Made on faux leather, easy to clean.
– Head rests and a functional armrest.
Benefits:
– Set has only 2 pieces, easy to assemble
– Ecologic set on faux leather
– 1-year warranty
– Available from $700 to $1400
Tips on how to Pick Best Sofa Set
When it comes to big sofa sets, you have to be cautious to be able to pick the best sofa, especially if you are going to buy the product online.
Deep Research: Big furniture sets like these fortunately are available for prices that are constantly fluctuating. For example, the Global Furniture Sectional Sofa is available for less than $2000 in some specific stores but you will see it being is sold for over $2500 on promotional sale on sites like Amazon, while the original price would cost almost $4000. When you search for the best sofa you have to also search for the best sellers. Not everybody will be able to give the same discounts, free shipping and other special advantages that can reduce the price of the furniture up to 100%.
Return Policy: Purchases like this, online, are difficult to be returned. That doesn't mean you do not have the right to do so, but even if you can, that doesn't mean it will be easy. Be sure to have read and evaluated all features before you make up your mind, otherwise returning robust sets like this one can cost you money or time to disassemble and ship it back.
Fit Measures: Sometimes it looks fit, but we don't realize that shy column in the living room will not allow that left piece of the set to be assembled. Careful when you are idealizing the set assembled in the ambient you have planned for the product. Also consider that some sets do not have a disposition that works on both directions (left and right) so you have to plan carefully the disposition. Consider too if you would like to, later on, change ambient and keep the set in a new room in the house.
What Do You Need To Know About the Best Sofa Sets
Some key questions are also important to have in mind when you are selecting the best sofa for your taste and your living room.
Does All Sofas Have Removable Cushions?
While it might sound obvious, the truth is, no, they don't. Most brands these days produce cushions and the frame separately, this is great to remove the first and clean up the furniture at ease. On the other hand, some companies do attach the seat cushions and the back cushions to some extent in the frame for aesthetic purposes, so be sure about what you are looking for and what would bother you or not.
What's the difference between bonded leather, faux leather and original leather?
Most of the best sofas are made on some leather material, but that doesn't mean the leather will be 100% original – or have to be like that to fulfill quality standards. These days an original cover of leather costs a lot, most of these sofas are made of bonded leather, which is like a collage of different pieces of leather into one piece. Depending of the size of the parts of this collage, the final product can be more expensive or more affordable. The first sofa of our list has only two pieces of leather for seat cushion, for example, while the pocket coil sofas of our list will have up to 4 different parts for cushion, no wonder they are less expensive. On the other hand, the faux leather is a synthetic fabric that mimics leather.
Is It Possible to Disassemble These Big Sofa Sets?
Most of these big sets are already crafted on separate pieces, but you have to pay attention to the measures of each piece to ensure all them will pass by your porch, the frame of your door, window and so on depending the way you are planning to bring them in. Be careful with these details because you will not want to play it hard pushing the furniture by your door, whether they are made of a leather type or other material, is quite likely you will damage the fabric of the sofa before you are even able to use it.
Conclusion
The task to find the best sofa set for your room is not only about matching your taste but matching a lot of – possibly – annoying technical details on infrastructure, so always prepare for a big purchase like this one equipped with the most information as possible. Also bear in mind that if you are planning to purchase a modest sofa set, sometimes it is actually better to buy a set of 2 or 3 armchairs instead because small sofas are one piece only and this piece might be too big for your door. Armchairs are easier to fit by your door and can be even as comfortable as small sofa sets. When it comes to comfort and investment, the best sofa really is something fulfilling and spacious, otherwise your money will not be well invested, so be careful.
Related Articles :